It's been a couple months, but there are times I'm still nervous. I'm still in disbelief it actually happened. But the Cubs winning the World Series is one of my great life moments.  One of my earliest memories of my grandfather is him taking us to Wrigley Field in the early 80's, before lights were installed. I remember the Cubs were playing the Dodgers when the Dodgers had players like Mike Marshall and Fernando Valenzuela. It's the first baseball park memory I have.
Both of my grandfathers lived and died in Illinois without seeing a Cubs World Series Championship. My dad, born in 1950, had not seen it. I'm in my 40's and it's been a rough go. It took me an embarrassingly long time to get over Bartman and the 2003 experience.  2007 and 2008 were stuff that leads to learned helplessness.
So the last couple of years have been an amazing run. Like many others did with loved ones, when the Cubs beat the Dodgers to advance to the World Series I thought of that game with my Grandfather back in the early 80's.
But I almost missed it. I almost didn't watch Game 7.
Because I live in Manila, the majority of MLB Playoff Games started at 8am my time. And it so happens I spent most of October in PhD intensives starting at….8am.  It was a month of confliction, but I was getting used to not watching. In fact, Game 7 took place on a work day so I was planning, for some odd reason, to head to campus like normal. (What was I thinking?)  But that's when fate stepped in…or God's sovereignty…or sheer dumb luck stepped in.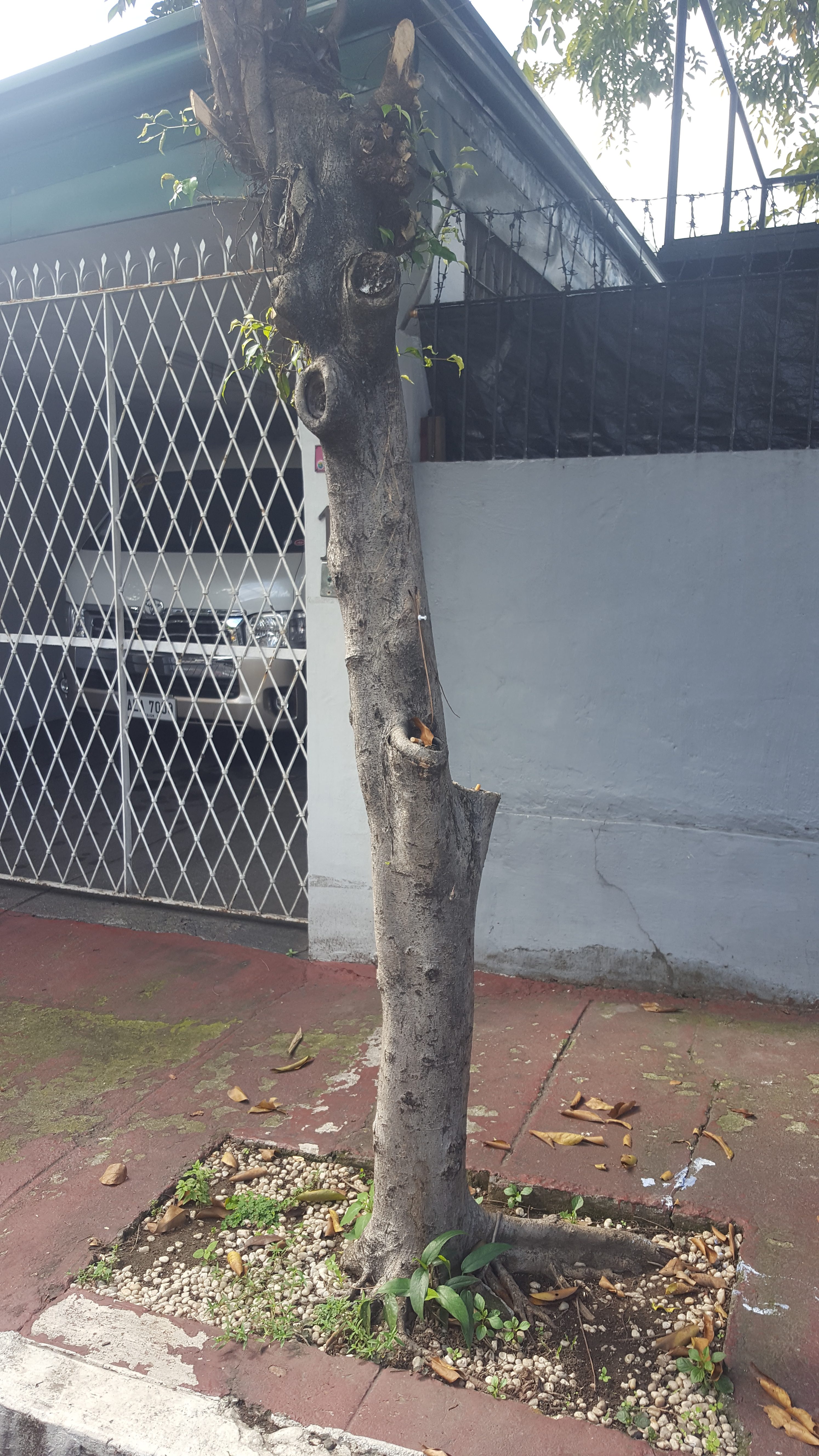 My wife hit a tree.  Pulling out of our driveway she backed into a tree and shattered the rear-view window of our van. T minus 90 minutes until game time.  This is the mighty oak of a tree that did such great damage to our car.
Pulling out of our driveway she backed into a tree and shattered the rear-view window of our van. T minus 90 minutes until game time.  This is the mighty oak of a tree that did such great damage to our car.
This is the mighty oak of a tree that did such great damage to our car.
But it was raining, our kids needed to get to school, and our other car was coded. For those not in Manila, the system to help the traffic problem is that every car is banned from the road for one day out of the week. So we were in a bind – we couldn't drive the coded car and we couldn't drive the van without a rear window in the rain.
So we gave up and decided to let the kids stay home, while we balanced watching Game 7 with getting our rear window fixed.  Through the Filipino network – a friend of a friend of the guy raking leaves next store, we got a lead on a place that could do the window and my wife graciously offered to take the car in so that we could watch the game.
The game begins.  I felt sick to my stomach. But Fowler's lead-off homer helped my nerves.
A few innings later, Kris Bryant scored on an improbably tag-up on a short fly ball.  I yelled something incoherent with intense excitement. My 9-year-old son looks at me, who only knew a few years of Cubs futility before this says to me, "Wow Dad. I've never seen you that emotional and excited."
After the Javy Baez homer in the 5th, I start to let me myself dream a bit and it's a party in the house. At this point, the van window is fixed and fully restored $100 later. Now our whole family is watching the game.
In the bottom of the 5th, the umpire makes an egregious call on a Kyle Hendricks strikeout pitch and prolongs the inning. I start to fume and bark at the umpire.  My six-year-old daughter looks at me with a disapproving look. This sets the stage for the pitching change and wild pitch and Cleveland scoring a couple runs. I start to feel sick again.
But in the 6th David Ross homers and all is well again and Lester starts mowing down hitters.  Things are looking good again and I'm starting to trip out that this might actually happen.  Then the 8th inning. That awful 8th inning.
Just prior to the Davis gut punch home run, my kids were sensing my excitement and decided to treat me to an early celebration. Bless their hearts. They don't know about Bartman or Durham or all the other kicks to the groin Cubs fans have endured, leaving us to behave like battered dogs during these moments. My kids were all set to surprise me with full on head to toe Cubs gear, ready to kick off the celebration when – Rajai Davis ties it up with a 2 run home run. I go to my dark place and tell the kids anxiously – "Not now. Not now.  This is bad and they may not win!" My kids are confused. I feel like I'm starting to look at the very gates of hell.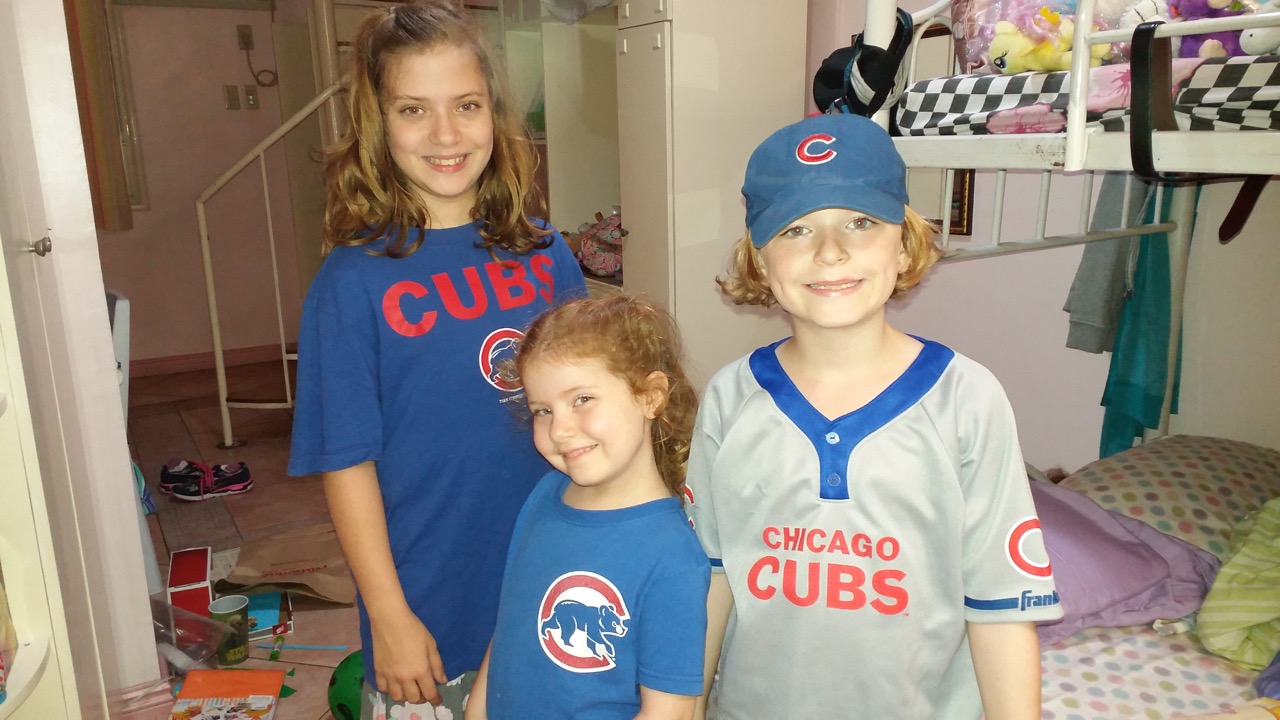 But then, because we're in Manila – the internet starts going out.  I struggle to watch the bottom of the ninth and rain delay because the stream has to buffer so long. We watch one minute and then wait two minutes, which adds to the agony of the experience.  I thank God for the rain delay but have hope because Schwarber leads off the 10th and he is Babe ruth reincarnated.
Because of the internet delays, I go dark on social media and we watch the 10th. I'm yelling, screaming, and talking at the television like a mad man.  My youngest daughter is disturbed and uncomfortable with the tension in the room – scared by the cheers coming with each hit and play.  She cries "Too loud! Too loud!" But I find out a couple weeks later than somewhere in this period of time she prayed to God that the Cubs would win...probably out of concern for her father's well being.
The internet speeds up a bit and the Zobrist hit sends us into a frenzy, followed by Montero's insurance RBI. I'm a nervous wreck that Carl Edwards Jr. is going to try to close the game, all 80 lbs of him. The Indians score and I start to feel sick again. One out away. So close, but so far.
But the internet stops. I have to re-set the router as there is a pitching change being made with the tying run on base. We're back to internet buffering. My wife is looking at her phone and making a weird look.
The internet gives us just enough to watch the final out and celebration. I realize my wife was sneaking a peak online and got the news a few minutes before we got to watch it. Fortunately, she kept it a secret.
Then my family gave me an authentic Ryne Sandberg jersey (my favorite player as a kid) they found for 10$ at a local mall (God Bless the Philippines!).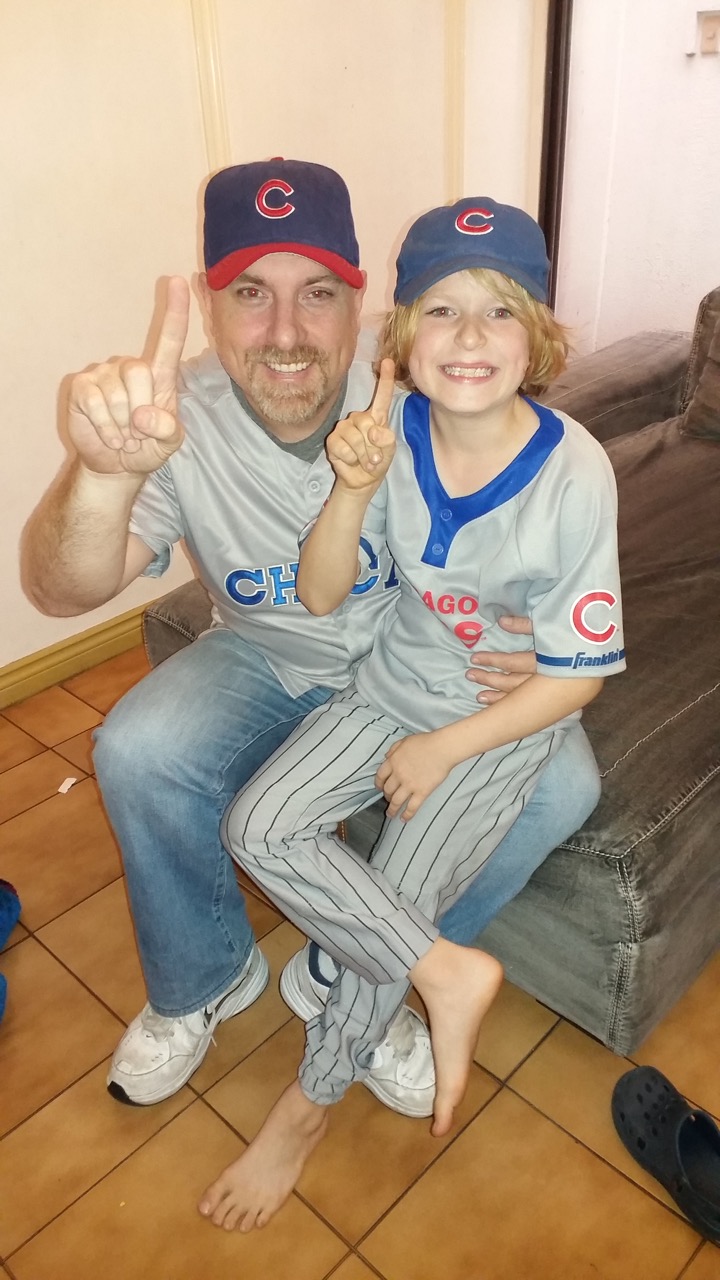 And I haven't been able to stop watching highlights and replays and bad youtube montages since.
I.CAN'T.GET.ENOUGH.
But I still feel nervous thinking about it because there's part of me that has a hard time believing it happened.
So it was a stressful, gut-wrenching, exhilarating experience that is a life highlight, given I got to experience it with my family. It was especially fun to go through the playoff journey with Colin because he's really gotten into the Cubs in the last year or two.
And it was all because my wife backed into a tiny, but powerful tree.