This past week was the national staff conference for my ministry (Epic) which I had the privilege to direct with an awesome design team and the help of many. As part of the conference I helped put together an e-book from many of the different great writings from Epic staff this past year.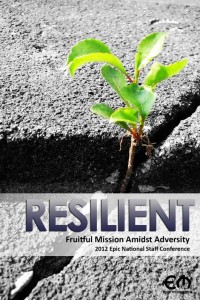 I hope you enjoy it if you ever get the chance to check it out. It's starts with a series that we ran on the Epic Resource site called, "Nine Elements of a Servant Leadership Reproduction Culture" with an additional intro and conclusion to it.  Part Two is my friend and teammate Adrian Pei's new article called "A New Kind of Charge: Reframing Contextualization and Mission." Part Three is a collection of 23 blogs from Epic staff from 2011-2012. Then finally, there's an article I wrote after coaching many of our staff last summer in an Introduction to Hermeneutics course on the connections between Hermeneutics and doing cross-cultural ministry.  It's called "A Three Cultures Approach to Engaging Scripture and Cross-Cultural Ministry."

Both mine and Adrian's articles are drafts so feel free to pass on any thoughts.  All in all – 101 pages of resources from about 17 authors (all Epic staff and interns) in total.

The mobi version works if you have a kindle or a kindle app on some other device.  If you can't upload it manually to your device, you should have a kindle assigned email that allows you to send it to your kindle app.  I included an epub as that's a common format for many other ereading devices.
Right click and save as…..
Epic Resilient E-book Kindle Version (mobi)
Epic Resilient E-book    .epub format
And for the non e-reader folks….here the pdf version…
Enjoy!