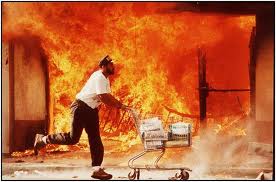 It's crazy to believe that the LA Riots or "civil unrest" was 20 years ago.  As the media has been starting to take people back to what happened 20 years ago, I've been reflecting a lot on my experience that week.  I'd love to share with you some of my reflections and invite you to share yours of what you may remember. This will likely be a 3 part series over the next few days.
It's a fascinating exercise because looking back I see more and see differently than I did then.  I was 17 years old, a junior in high school.  I went to Long Beach Poly High School, an urban high school not too far from the downtown part of Long Beach, California.  Long Beach Poly is known for a couple things nationally – having sent more pro football players to the NFL than any other high school and also having produced no shortage of rap icons.  Snoop Dogg was there for a couple of my years in high school among others.  It was an extremely ethnically diverse school at the time, and even more so now.
Long Beach, part of LA county, is about 25-30 minutes southwest from South Central LA where the riots broke out.  But the riots didn't stay contained to South Central Los Angeles and spread to a couple parts of Long Beach including the surrounding area of my high school.  An indicator of the strangeness and perhaps surreal nature of what was taking place is reflected in the fact that I had friends who spend much of that time helping their families protect their stores and I had other friends who did some looting. It was crazy.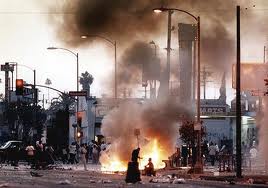 I remember Rodney King, the video footage of his beating by white cops, the trial, the acquittal, and the great rage which had been brewing.  As a white person watching, the clearest and most vivid memory was seeing the coverage of the beating of Reginald Denny, a white truck driver who was pulled out of his cab and beaten unconscious.  As a white person, the truth of the matter was pretty evident and powerful – that could have been me.  That wasn't the first time I had experienced racism directed at me as a white person, but it was the first time where I realized that if I were in the wrong place at the wrong time I could end up like Denny – that I could be harmed because of the color of my skin.
One of more memorable elements of that time was the decision to go to school the next day after the riots broke out in South Central LA.  For background, from fifth grade to twelfth grade I attended public school about 30 minutes across town from where I lived.  Part of the strategy for ethnic diversity and integration was the establishment of various academic programs in the more urban and predominantly ethnic minority communities.  At the time of the riots, while I was in high school, my youngest sister was at the Junior High I went to that was even farther away.  Watching the news, which showed where the rioting was breaking out with little mini fire icons over city maps, generated a lot of anxiety for some. It was a strange feeling for a while to see the fire icons "getting closer" wondering how bad things were going to get.
Many of the white parents chose not to send their kids to school the next day or day after, especially when they were sending their kids across town.  Looking back I find it interesting that my sister and I both didn't blink and we wanted to go school, never really considering not going. I remember being asked if I thought I should take the day off because of the potential racial conflicts that were breaking out and as a white person I might be an object of racist hate or violence.  I blew that notion off without much thought, but I could tell at the time that there were a lot of nervous parents that day.
I remember vividly driving to school during that time with a couple friends and seeing buildings near the school that had been burnt down and signs of unrest that had spilled over into that part of the city.  Usually I felt very secure at the school and I don't remember it being that different that day.  There was in fact a significant conflict or "fight" on campus that first day as I remember, but ironically it didn't involve Caucasians. Life continued to happen while there was still a lot of chaos in the city at large.
When my sister and I got home, I remember my mom asking us how it was and if there ever was any moment where we felt fearful or threatened.  My sister, who was 14 at the time and in 8th grade, had the best response which we've laughed about ever since.  She said, "It was fine, no problems. The only thing really that wasn't normal was a bunch of students yelling 'We hate white people!'"  We get a kick out of my sister's nonchalance at the time now, but I'm sure my mom loved hearing that at the time.
Looking back I remember two distinct emotional realities.  First, the great rage felt especially by the black community.  I understand the dynamics much more now than I did then.  Back then it was hard to understand the systemic realities and injustice and even hopelessness for many that true justice could be served.  The rally cry, "No Justice, No Peace" is about a clear a call for those in power to wake up and pay attention to a community as there can be.  Racism and systemic oppression were on display throughout the whole process, maybe most notoriously through the dispatching of many from the police force to "protect" Beverly Hills while there was great need to restore order where the riots had broken out in the inner city.  Power at work preserving itself again.
The second strong emotional reality was that of anxiety and fear among the white community.  I don't know if I felt it as much because I was young, had grown up amidst great diversity, or what, but I clearly saw it around me.  White people aren't used to being targeted in such ways and it was unnerving for most.  Part of the anxiety was because I don't think most white folk then (and even now) were able to understand the underlying dynamics of why such hostility and anger finally boiled over.  So what was in many ways an angry response to real and perceived injustice, many whites interpreted as only racist lashing out by the uneducated poor and criminal.  White people were very fearful and anxious in general during that time from what I remember. They experienced the events primarily through the lens of "Are we safe?" as opposed to trying to understand what had driven people to such action and what this all meant.
The riots brought to the surface much of what had been there all along – and it's with great confidence I can say that many white men and women missed what was truly at work in that time under the surface, even if much of the expression of anger in the civil unrest was in fact criminal and illegal. The criminal element should not have negated the pain of the community which was being expressed in many ways. This pain had been a ticking time bomb that the acquittals of the police officers set off.
When I look back, it seems surreal.  For a season it was extremely intense, then life went back to normal.  But the experience stuck with me, even though I didn't have the experience or frame of reference that I do now.
I walked through that experience with an extremely diverse group of friends and the next post will focus on my reflections and memories of how the events and experience of the Riots was processed in that context.
Where were you? How old were you? 
What do you remember and how do you see it differently now than you did then?