This week was a big week for our family because the kids really love decorating the house for Christmas.  So me and the kids go to town and transform half of our house into Christmas central.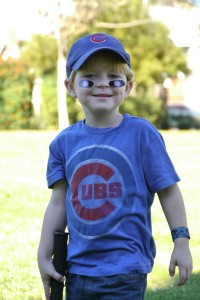 While we were doing some decorating my son, who just turned five, started asking questions. The wheels are turning. He's on the verge of figuring out the truth about Santa.
He first started expressing skepticism about reindeer.
"They're deer after all. And if they are still just deer – how can they fly? Are their reindeer that can really fly?"
But shortly thereafter I was blown away when he asked verbatim, with a very amount of emotion and earnestness,
"I don't understand. To get presents from Santa, how good do you have to be? How does He know?  Is it true?  I don't know how good I'm supposed to be to get presents.  How do I know how good I've been?


….or is it all a big joke?   What's real?"
I thought to myself, "Wow. Isn't that what most people have to wrestle with in life at one point or another?"  My son doesn't jump out as the philosophical type if you experience our family, but he consistently blows me away with some of his questions and what he thinks about. This led to a good conversation about grace and works in achieving favor with God.
Life sooner or later will feel like a big joke when we try, without being anchored in Jesus Christ and the meaning he gives to our existence, to get a handle on the question about whether we are good enough or how to know how good we need to be.  I for one am thankful that God brought me to a point where I had to face the bold truth that I could never be good enough to be accepted and forgiven by God.  And that he had created me with dignity and with a purpose and that I could be good enough through the person and work of Jesus Christ.
So it was a great conversation to break (or weaken at least) the bad theology of the naughty and nice list and present a more true and beautiful picture of how God sees those who are found in His son Jesus.   He hasn't fully tossed the idea of Santa into the trash can yet, but it is fun seeing him not put as much at stake in the celebrated human and worldly tradition of performing for blessing  – whether the object is Santa or, on a much bigger level, God.
Ho, Ho, Ho 🙂   Love this time of year with young kids though.  Very fun.